The Public Speaking Workshop NYC was amazing! It doesn't matter if you struggle with public speaking or not. There is ALWAYS something to learn, something that you weren't aware you were doing or that can be improved. Herman can detect within a few sentences of you speaking what you need to work on! I highly recommend it to EVERYONE.
Icíar González
Read more reviews..
Learn the secrets of public speaking from the best reviewed speaking coach in NYC.
✔️ Practice in a safe environment
✔️ Small group (max 6 people)
✔️ Lunch included
✔️ Certificate of participation
✔️ After-class-email with tips and tricks
✔️ Over 350 positive reviews..
We also offer private coaching and corporate training.
And a follow-up to this class: the level 2 experience!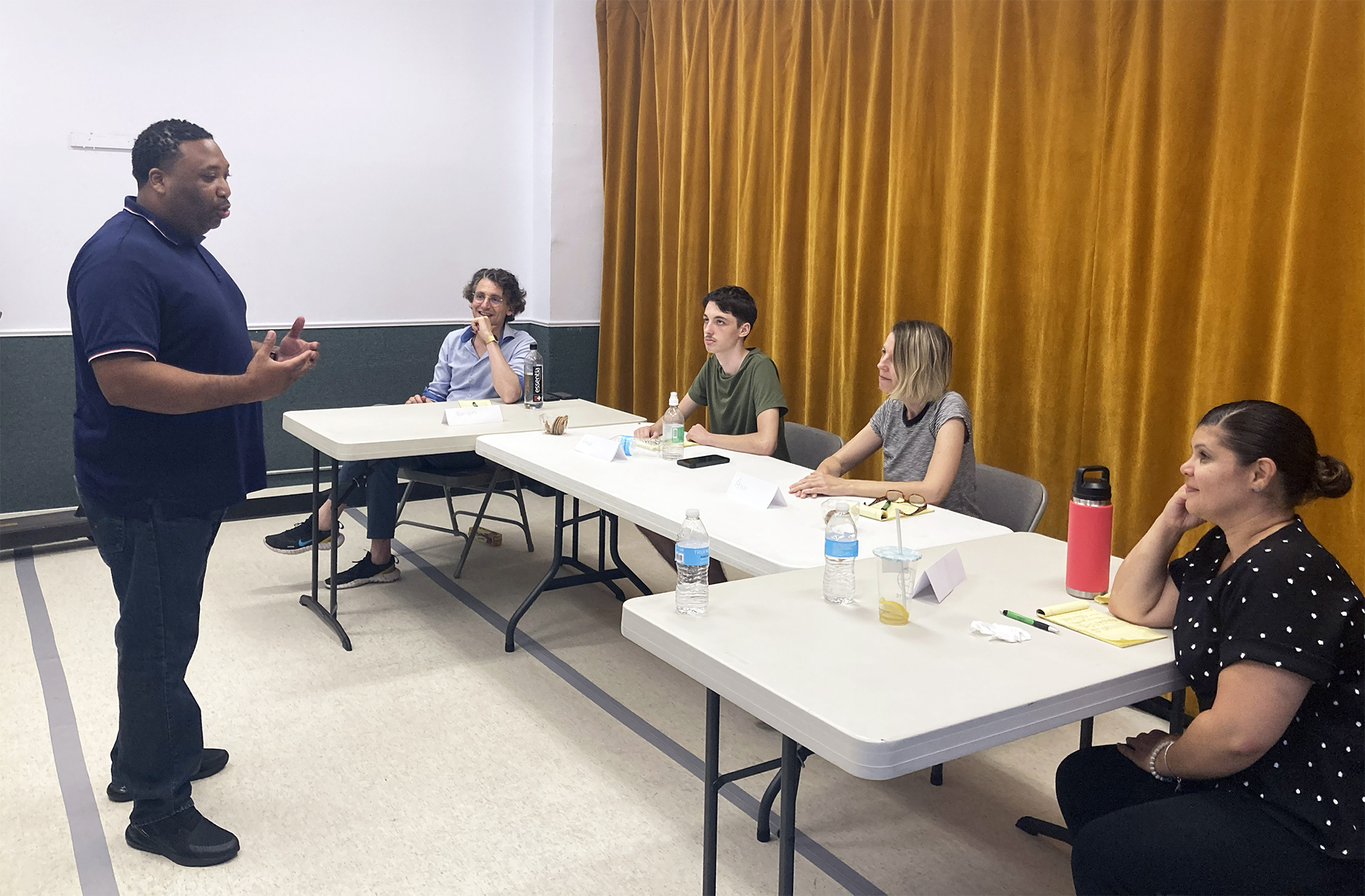 About the public speaking workshop NYC
In the full day public speaking workshop NYC, coach Herman Otten will train you how to speak in front of a group without thinking about what you have to say next. In the public speaking workshop NYC you will learn how to give a presentation without too much preparation. This way you will improve your posture and overall image when speaking in public. Herman creates an informal and safe setting where you can practice in.
What happens when you forget what to say? Why do some speakers come across so naturally and others don't? In Herman's public speaking workshop, these topics will be discussed and more. 
Discover your inner genius
In the public speaking workshop NYC you'll discover your inner genius by speaking through your unfiltered imagination. When you tap into your unfiltered imagination you can speak in front of a group like you never did before. You'll never run out of things to say without any prior preparation. Herman will guide you through the process of tapping into this hidden gem. And you'll be shocked how fast this can happen.
Furthermore, you'll discover what it is that makes you tick when speaking in front of a group. As Nietzsche famously said: "He who has a why to live for can bear almost any how". That's why in the public speaking workshop, we'll find your why and how you can use it to its maximum potential.
At the end of any public speaking workshop NYC everyone gets assignments they can take home with them. We do this so that even after the workshop you can practice on your own accord. Because practice makes perfect!
Last night I attended this awesome public speaking workshop NYC and it changed my life. Herman's instructions and guidance turned my fear around. I can't wait to use my new tools the next time I have to speak in front of people! I would absolutely recommend his class. I'm planning to do a full day seminar with him! Thank you Herman! 
Michael Mutt
Read more reviews..
Is the public speaking workshop NYC for me?
This workshop is for you if you want to get over your fear of speaking in front of groups once and for all. The public speaking workshop NYC is also for you if you want to build on your current skills and improve them even further. Starting your public speaking journey or getting more practice are a vital part of your progress into becoming the public speaker you were meant to be.
About Herman Otten
The public speaking class is taught by Herman Otten. He graduated as an actor from the Utrecht School of the Arts. He then went on to direct and act on Dutch television. Now Herman is widely known for helping people overcome their fear of public speaking. Herman's life goal is to help people as quickly and effectively as possible. He has been doing this for many years with great success. More about Herman.
Personal attention
We work in a small group. This ensures that everyone gets enough personal attention to work on their skills.
Practical information
Time: full day from 11am to 6pm.
We have two 10 minutes coffee breaks and a 1 hour lunch break.
Location: In the heart of Manhattan at Ripley-Grier Studios, 520 8th Avenue
Lunch: We have a great lunch together at a nearby restaurant. Vegetarian and vegan options are available.
Price: 497 USD per person (a great lunch, water, cookies are included). Payment is possible via PayPal and credit card.
NOTE: WE DON'T DO REFUNDS OR RESCHEDULING! If you can't make it, you may give or sell your spot to someone else.
Let us know if you have any questions.
Or check out the frequently asked questions to find out if your answer is in there.