"I had a great experience and learned a lot at Herman's speaking class. The class consisted of a group of 5 which allowed us plenty of practice for public speaking. Herman provided us with a plethora of tips and tricks on how to speak in public. This class is a must! I definitely recommend this class and I am willing to go again in the future."
Christina Fernandez
Read more reviews..
Learn the secrets of public speaking from the best reviewed speaking coach in NYC.
✔️ Practice in a safe environment
✔️ Small group (max 6 people)
✔️ Lunch included
✔️ Certificate of participation
✔️ After-class-email with tips and tricks
✔️ Over 350 positive reviews..
We also offer private coaching and corporate training.
And a follow-up to this class: the level 2 experience!
How to speak in public

How to speak in public? We will try to explain the basics of public speaking.
The first thing you need to know about public speaking is that it is a performance where goals can differ. For example, it can be informing, persuading or amusing. Next thing you need to know about how to speak in public is that using triplets makes a story easy to follow.
Triplets
Introduction
Main points
Conclusion
These three things show the basic buildup of a public speech. You tell your audience what you're going to tell them, then you tell them and then you tell them what you just told them. Basically tell the three times the same thing only with a different amount of detail.
Preparation, performance and practice are the three thing you use in order to get the best version of your public speech. In the preparation phase you obviously are going to prepare yourself to construct the public speech. But before you do anything like script writing you ask yourself some questions.
Where are you speaking?
What are you talking about?
To whom are you speaking?
What does your audience already know?
Why are you speaking?
How long will you be speaking?
What is your audiences perception of your subject?
What are you trying to say? Or What are your main points?
"Herman's public speaking class was tremendously beneficial to me. We learned how to stay composed/overcome fear, techniques for commanding the room, and various vocal strategies to become more effective public speakers. Herman is a wealth of knowledge in the field, and is able to create a supportive, friendly environment."
Christopher Stockel
Read more reviews..
Script and appearance
When you carefully answered these questions you can start writing your script. Once you have your script you can go and think of the next step, performance. In this step you're going to think about your physical performance, vocal performance and script delivery.
Physical performance is about your appearance what you're wearing and how you're standing. It's important to stand up and put your feet on the ground to stay strong. It also gives you more room to breathe, which will make it easier for you to play with your vocal performance where you vary your pitch, tone speed and volume of your voice/speech.
With script delivery it's important that you don't read or recite your script. You made your script to help you get to know as much as possible about the subject you're talking about and to help you think about how you want to bring all of this information to your audience.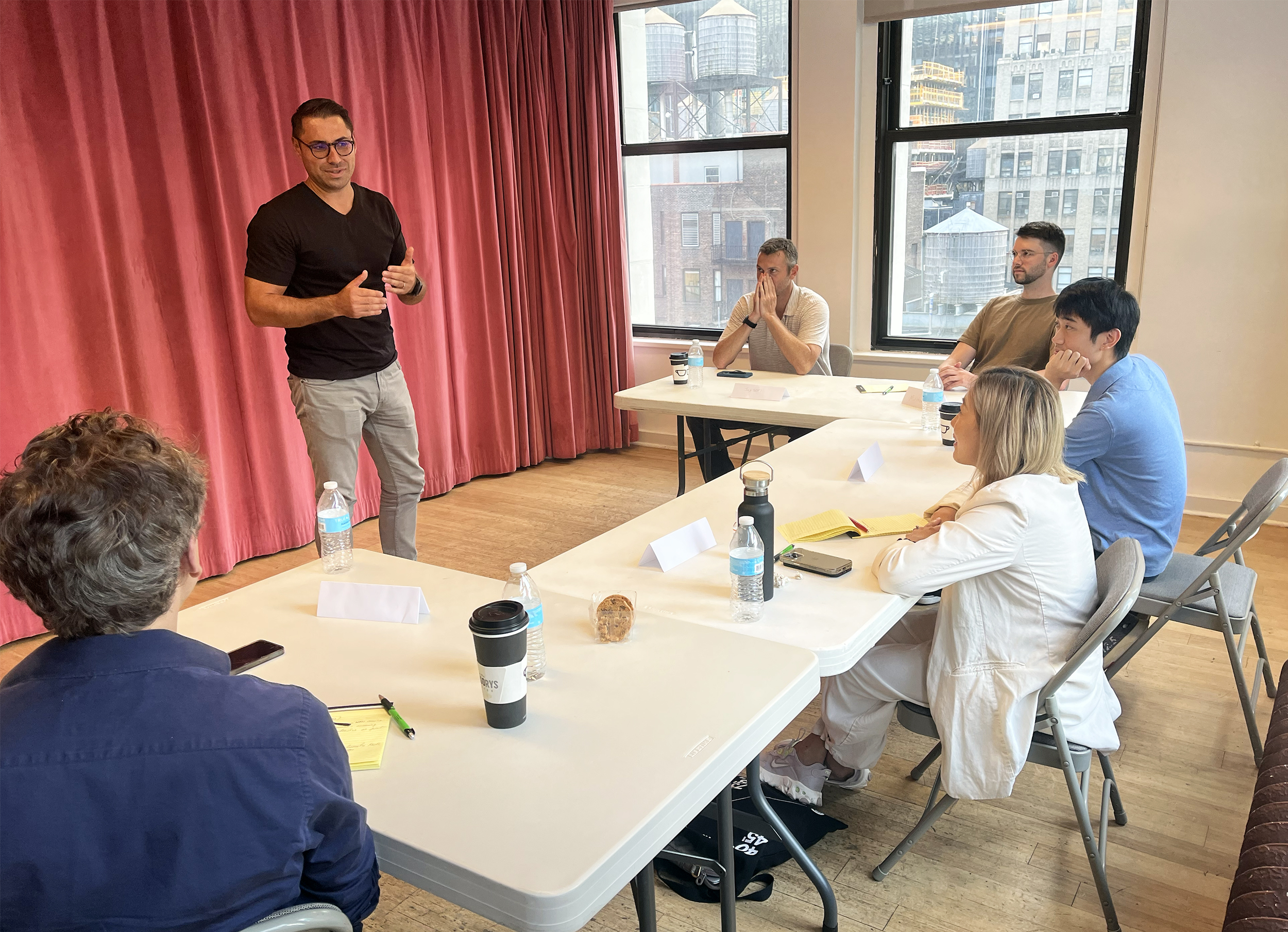 Practice your presentation skills
If you want to learn more about how to speak in public, we welcome you in the full day public speaking class. During this training you will practice your public speaking skills many times in front of the other participants. It will boost your self-confidence and gets you prepared for future presentations.
About Herman Otten
The public speaking class is taught by Herman Otten. He graduated as an actor from the Utrecht School of the Arts. He then went on to direct and act on Dutch television. Now Herman is widely known for helping people overcome their fear of public speaking. Herman's life goal is to help people as quickly and effectively as possible. He has been doing this for many years with great success. More about Herman.
Personal attention
We work in a small group. This ensures that everyone gets enough personal attention to overcome social anxiety.
Practical information
Time: full day from 11am to 6pm.
We have two 10 minutes coffee breaks and a 1 hour lunch break.
Location: In the heart of Manhattan at Ripley-Grier Studios, 520 8th Avenue
Lunch: We have a great lunch together at a nearby restaurant. Vegetarian and vegan options are available.
Price: 497 USD per person (a great lunch, water, cookies are included). Payment is possible via PayPal and credit card.
NOTE: WE DON'T DO REFUNDS OR RESCHEDULING! If you can't make it, you may give or sell your spot to someone else.
Let us know if you have any questions.
Or check out the frequently asked questions to find out if your answer is in there.