"After seeing reviews and reading about situations similar to mine, I knew I had to attend this speech class in NYC. The warm atmosphere was felt almost immediately upon entering, and the progression I feel I've obtained is top tier. Not only was Herman able to identify issues I've had with public speaking, he was able to encourage me with helpful tips to work through what I thought was a serious issue. I can honestly say I feel more confident with my speaking, and others in the class helped me by giving pointers on where I can improve. I would 100% recommend this course for anyone having doubts about public speaking, or just to improve their public speaking capabilities."
Brendan Egan
Read more reviews..
Learn the secrets of public speaking from the best reviewed speaking coach in NYC.
✔️ Practice in a safe environment
✔️ Small group (max 6 people)
✔️ Lunch included
✔️ Certificate of participation
✔️ After-class-email with tips and tricks
✔️ Over 350 positive reviews..
We also offer private coaching and corporate training.
And a follow-up to this class: the level 2 experience!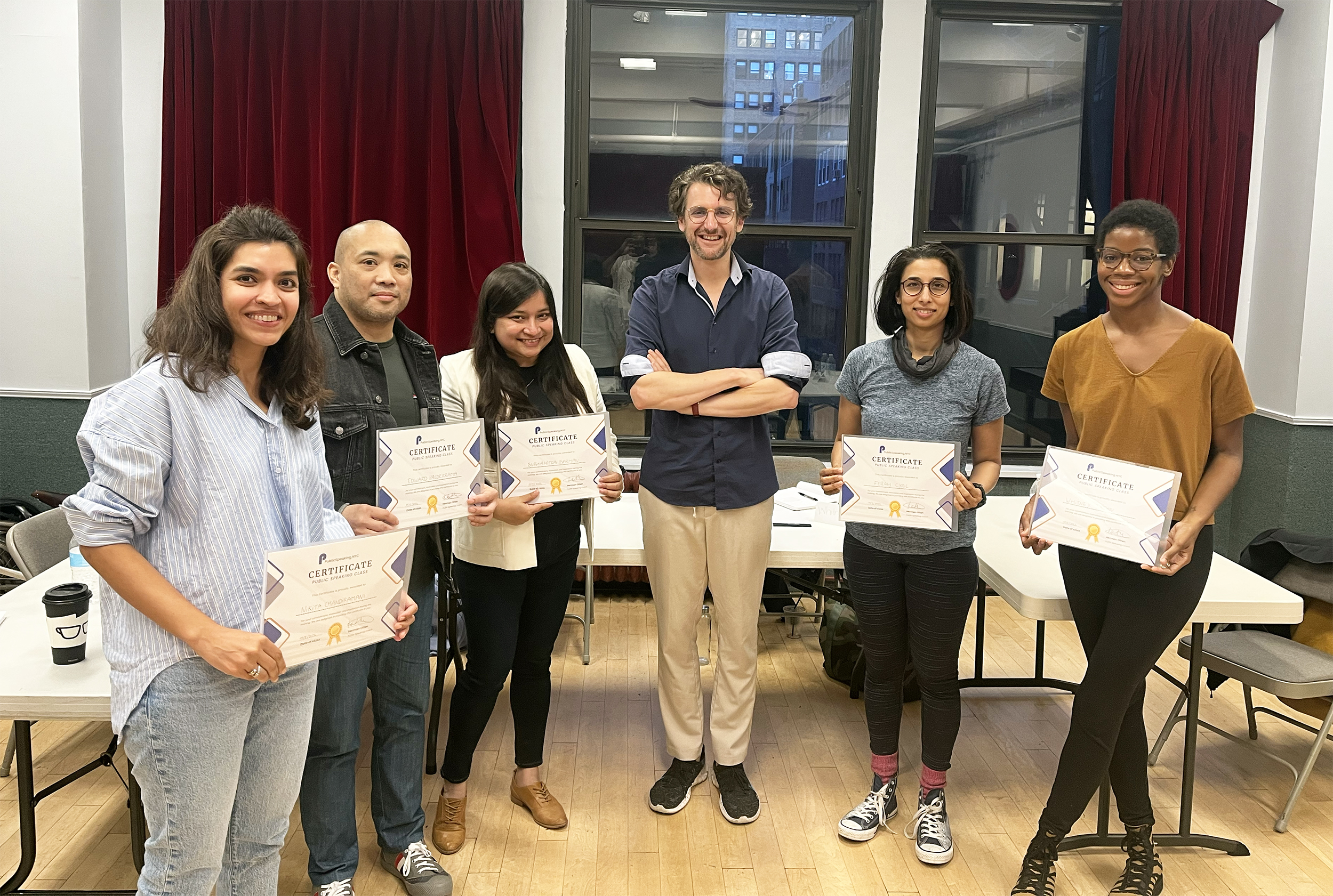 Taking a NYC speech class can be an incredibly rewarding experience. Not only will it give you the basic skills to deliver a presentation in front of an audience, but it can also teach you valuable lessons about public speaking, communication, and even yourself.
What makes a good NYC speech class
A good speech class will provide you with the fundamentals of public speaking. You will learn the importance of clear and concise delivery, as well as how to build an effective presentation. Additionally, you will be taught the basics of vocal projection and how to maintain eye contact with your audience. In addition to learning the fundamentals, a speech class can teach you about communication. You will learn how to craft messages that will be heard and understood by your audience. You will also discover how to tailor your delivery to a specific audience and how to control your nerves before a presentation. Finally, a speech class can be an incredibly personal experience.
Becoming a successful orator
As you practice delivering presentations in front of your classmates, you will get more comfortable speaking in front of a group. You will also gain a greater understanding of your own strengths and weaknesses, and how you can leverage them to become a better speaker. Overall, taking a speech class can be a great opportunity to learn valuable communication skills and gain self–confidence. Whether you are preparing for a job interview or wanting to become a better public speaker, a speech class can provide the foundation to become a successful orator.
Herman's speech class in NYC
Joining Herman's class can be a great way to learn public speaking skills. He can provide valuable insight and advice on how to effectively communicate to an audience and help you to become a more confident speaker. Herman has a wealth of knowledge about the art and science of public speaking, which can be beneficial for those looking to improve their speaking skills. His enthusiasm and passion for public speaking makes his classes enjoyable and engaging, which can be helpful for those who may be apprehensive about speaking in front of others.
About Herman Otten
The public speaking class is taught by Herman Otten. He graduated as an actor from the Utrecht School of the Arts. He then went on to direct and act on Dutch television. Now Herman is widely known for helping people overcome their fear of public speaking. Herman's life goal is to help people as quickly and effectively as possible. He has been doing this for many years with great success. More about Herman.
Personal attention
We work in a small group. This ensures that everyone gets enough personal attention to practice your public speaking skills.
Practical information
Time: full day from 11am to 6pm.
We have two 10 minutes coffee breaks and a 1 hour lunch break.
Location: In the heart of Manhattan at Ripley-Grier Studios, 520 8th Avenue
Lunch: We have a great lunch together at a nearby restaurant. Vegetarian and vegan options are available.
Price: 497 USD per person (a great lunch, water, cookies are included). Payment is possible via PayPal and credit card.
NOTE: WE DON'T DO REFUNDS OR RESCHEDULING! If you can't make it, you may give or sell your spot to someone else.
Let us know if you have any questions.
Or check out the frequently asked questions to find out if your answer is in there.