"I had a great experience and learned a lot at Herman's speaking class. The class consisted of a group of 5 which allowed us plenty of practice for public speaking. Herman provided us with a plethora of tips and tricks on how to master the art of public speaking. This class is a must! I definitely recommend this class and I am willing to go again in the future. Thanks Herman!"
Christina Fernandez
Read more reviews..
Learn the secrets of public speaking from the best reviewed speaking coach in NYC.
✔️ Practice in a safe environment
✔️ Small group (max 6 people)
✔️ Lunch included
✔️ Certificate of participation
✔️ After-class-email with tips and tricks
✔️ Over 350 positive reviews..
We also offer private coaching and corporate training.
And a follow-up to this class: the level 2 experience!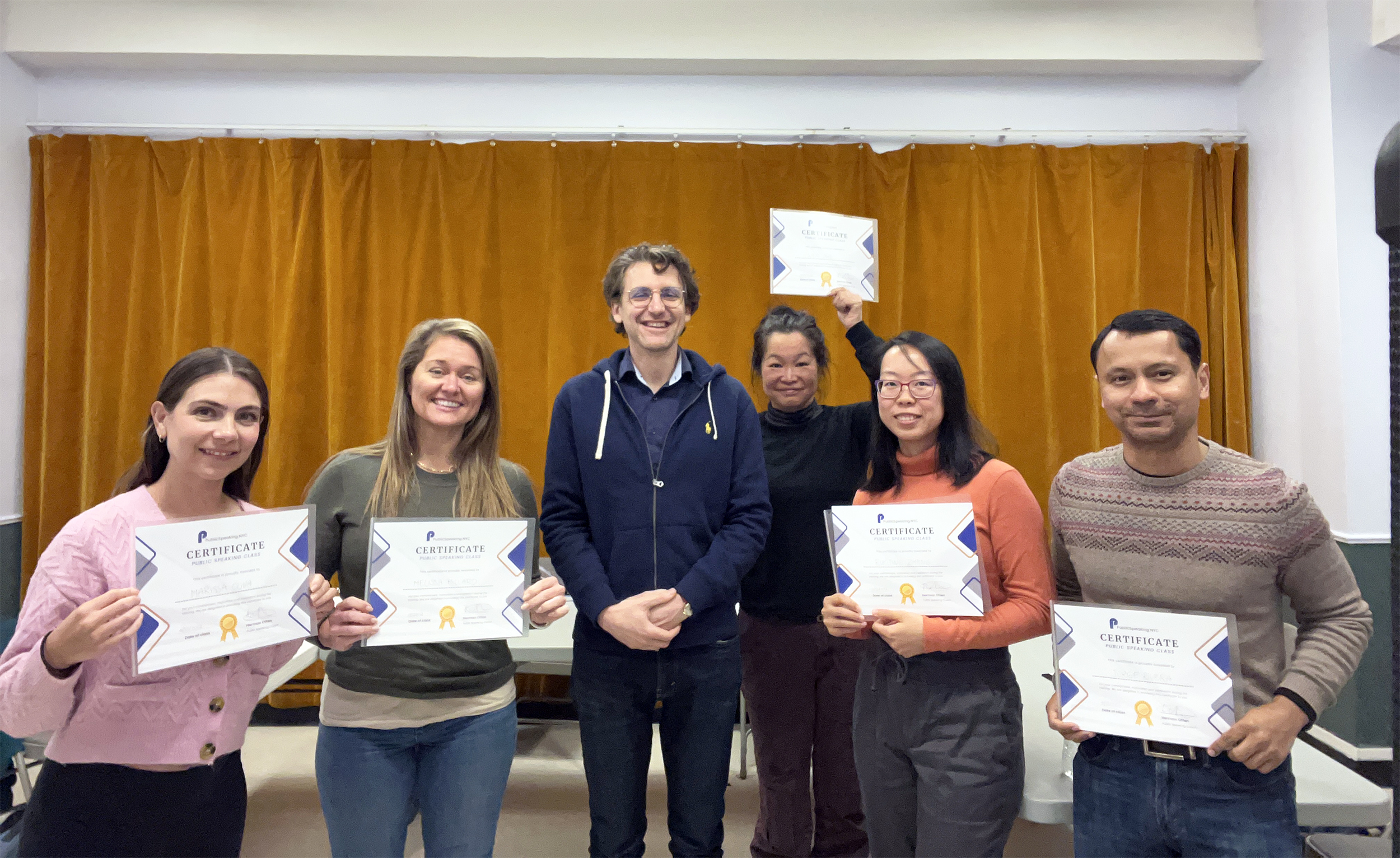 The art of public speaking
The art of public speaking: this is not a commonly used phrase for nothing. Public speaking is indeed an art form. A good storyteller can draw an audience into a story and ensure that the message lands well. The great thing about the art of public speaking is that anyone can learn it. like all skills, you get better at this the more you practice.
The art of public speaking: different styles
Before you can practice the art of public speaking, you would of course also want to know what you can do to involve an audience in your story. What are the do's and don'ts of public speaking? Our public speaking group class is intended for this purpose. In the class you will receive various exercises that help you to gain insight into the art of public speaking and to know how you can present yourself. Every person is different and has different pitfalls to watch out for and assets that can be used during a presentation. There is no one good way of presenting. everyone can develop their own presentation style.
"Really liked it! Herman keeps it practical (no vague things), gives everyone plenty of opportunities to practice and knows how to get everyone out of his / her comfort zone to get the most out of the training. I already notice a difference in how I stand in front of groups!"
Kevin Boots
Read more reviews..
About Herman Otten
The public speaking class is taught by Herman Otten. He graduated as an actor from the Utrecht School of the Arts. He then went on to direct and act on Dutch television. Now Herman is widely known for helping people overcome their fear of public speaking. Herman's life goal is to help people as quickly and effectively as possible. He has been doing this for many years with great success. More about Herman.
Personal attention
We work in a small group. This ensures that everyone gets enough personal attention to master the art of public speaking.
Practical information
Time: full day from 11am to 6pm.
We have two 10 minutes coffee breaks and a 1 hour lunch break.
Location: In the heart of Manhattan at Ripley-Grier Studios, 520 8th Avenue
Lunch: We have a great lunch together at a nearby restaurant. Vegetarian and vegan options are available.
Price: 497 USD per person (a great lunch, water, cookies are included). Payment is possible via PayPal and credit card.
NOTE: WE DON'T DO REFUNDS OR RESCHEDULING! If you can't make it, you may give or sell your spot to someone else.
Let us know if you have any questions.
Or check out the frequently asked questions to find out if your answer is in there.