"I have experienced fear and trembling every time I have had to deliver an academic lecture. Herman's Public Speaking NYC seminar changed all that. Herman's presentation addressed the psychological underpinnings of fear of public speaking and was followed by practical exercises where each member stood up in front of the group to practice each new skill. The last exercise was to demonstrate to ourselves and the group that we had overcome our stage fright. We not only learned to be calm and composed while speaking before a group – Herman made it fun. Highly recommended!"
Dr. Krystyna Sanderson
Read more reviews..
Learn the secrets of public speaking from the best reviewed speaking coach in NYC.
✔️ Practice in a safe environment
✔️ Small group (max 6 people)
✔️ Lunch included
✔️ Certificate of participation
✔️ After-class-email with tips and tricks
✔️ Over 350 positive reviews..
We also offer private coaching and corporate training.
And a follow-up to this class: the level 2 experience!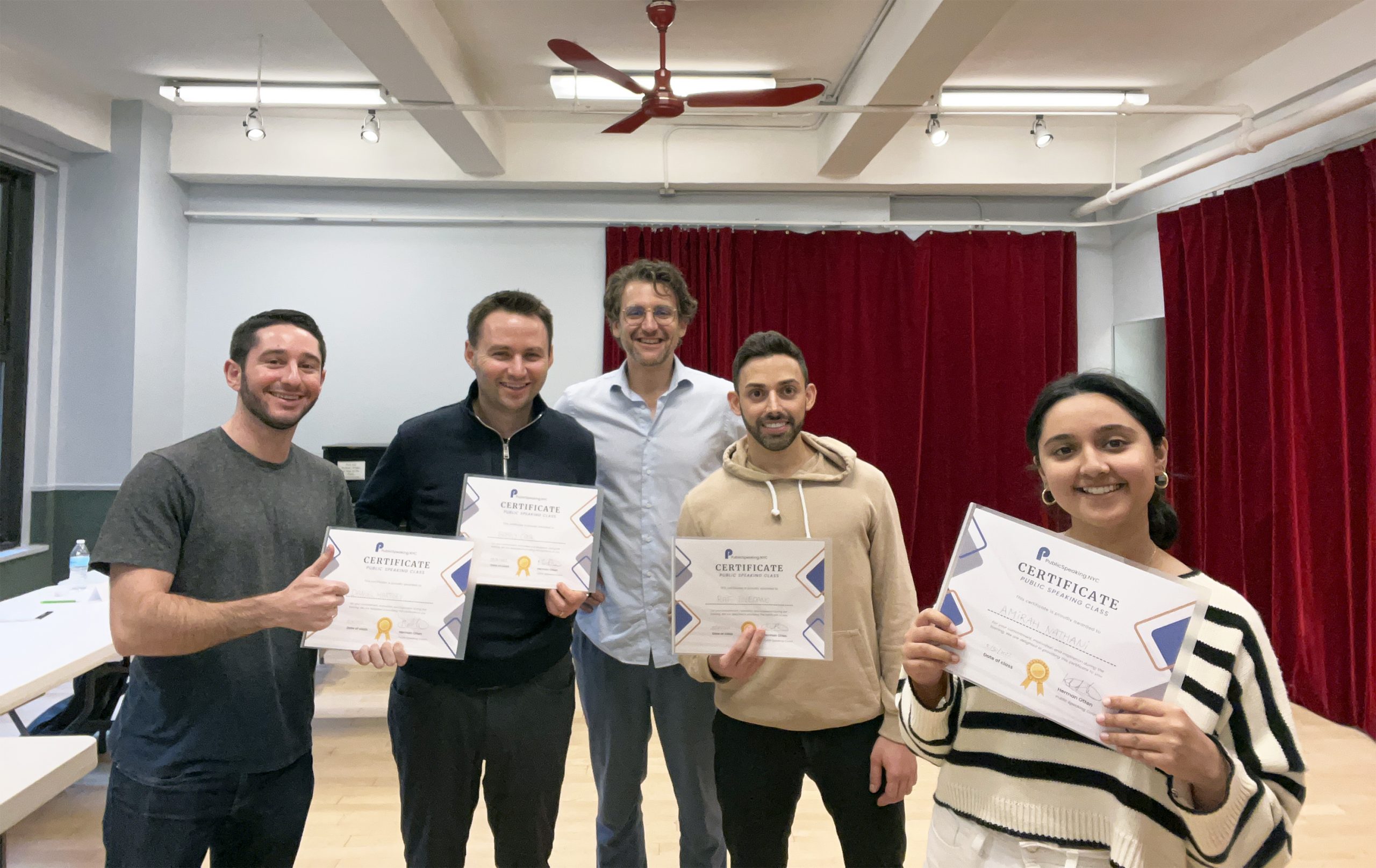 Fear of public speaking
The fear of public speaking is very common, it's the second most searched fear on the ethernet, just behind the fear of flying. The official term is Glossophobia. But knowing it is very common doesn't help you, so let's take a look at why we have fear of public speaking and how we can get rid of it.
Different factors
There are many kinds of reasons why someone may develop fear of public speaking. But the theories in the psychology that try and do research have found four factors involved:
Experiencing fear comes with a physical feeling, you feel your body reacting to the situation you're in. Fear of public speaking comes naturally with a physical reaction, your body produces adrenalin and you as a person feel the effects of that adrenaline flowing through your body. You will start breathing faster and your heart starts pumping faster.
When you think of public speaking you may think it's scary or that it's a skill you don't have. You think that the audience will be judging you on that. Your beliefs can influence your fear of public speaking. When you really believe that public speaking is fun you will experience less anxiety or the fear will not even exist.
Every behavior that occurs happens in some kind of context, behavior isn't there on itself. Public speaking happens in different kinds of situations and settings: at your work, at home with your family or with your friends. Usually people experience the most anxiety at work, because it is a professional context. You may think you shouldn't make mistakes because they'll think you're bad at you job or you are not performing well enough at work.
Confidence in your skills as a public speaker
People think of public speaking as a skill. The more skilled you are, the more confident you become and the less fear you experience. Some people have the skill of public speaking naturally, but the people that have to overcome fear of public speaking and keep improving, are the ones that really stand out. So, improving your skill and/or improving your confidence will make you less afraid.
"I decided to take the course because of my desire to overcome my fear of public speaking in large groups. It was money well spent. I walked away with tools that I know I will be able to apply with ease during my next presentation. Herman was so easy going and encouraging, every time he instructed me to stand and present I was excited to do so. The training provided me the confidence I needed to keep striving to get better."
Rasheedah Jones
Read more reviews..
Overcoming fear of public speaking
Now that we know what the main causes are of fear of public speaking, we know what we need to change or improve in order to overcome this. Let's have a look how a training can help you. The physical factor sounds like something you can't change, but guess what.. you can!
In our public speaking group class you will learn how to deal with your fear of public speaking. You learn how not to focus on your body and your physical feelings. You will also learn to think differently about public speaking in general. It will become a fun thing to do, or just something that isn't a big deal.You will also learn how to respond to different types of situations in which you speak in public. And, of course, you'll get better at the skill itself, which will boost your confidence and reduce your fear of public speaking.
About Herman Otten
The public speaking class is taught by Herman Otten. He graduated as an actor from the Utrecht School of the Arts. He then went on to direct and act on Dutch television. Now Herman is widely known for helping people overcome their fear of public speaking. Herman's life goal is to help people as quickly and effectively as possible. He has been doing this for many years with great success. More about Herman.
Personal attention
We work in a small group. This ensures that everyone gets enough personal attention to overcome fear of public speaking.
Practical information
Time: full day from 11am to 6pm.
We have two 10 minutes coffee breaks and a 1 hour lunch break.
Location: In the heart of Manhattan at Ripley-Grier Studios, 520 8th Avenue
Lunch: We have a great lunch together at a nearby restaurant. Vegetarian and vegan options are available.
Price: 497 USD per person (a great lunch, water, cookies are included). Payment is possible via PayPal and credit card.
NOTE: WE DON'T DO REFUNDS OR RESCHEDULING! If you can't make it, you may give or sell your spot to someone else.
Let us know if you have any questions.
Or check out the frequently asked questions to find out if your answer is in there.