Fantastic workshop by Herman Otten! A personal workshop in which Herman accurately pinpoints what every individual needs to improve. During his workshop Herman challenges you to stand in a front of an audience and step outside of yourself. A good way to get outside of my comfort zone. I learned a lot. Thanks Herman!
Femke Anne Beijerbergen
Read more reviews..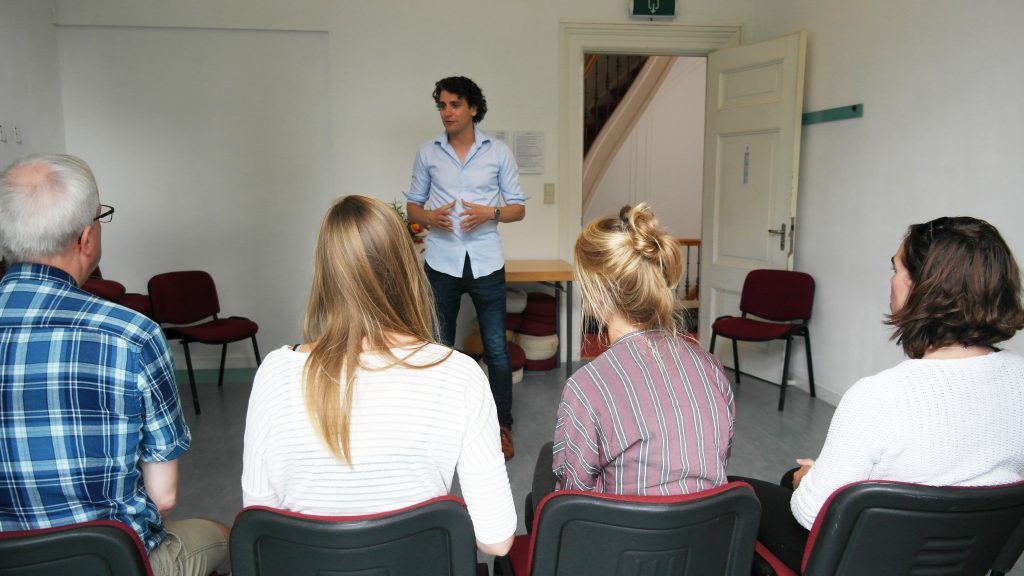 Public speaking skills
A good public speaker has more than just one way of performing a good public speech. These different kinds of way we call public speaking skills. In the public speaking class of Herman Otten you learn to control these public speaking skills.
Herman diverts these skills into four categories:
Fire
This particular category contains the public speaking skills passion, persuasiveness and vigor. Having these public speaking skills will show the audience that you know where you stand for and that you have passion for what you do.
Earth
Earth is the category that contain the public speaking skills of knowledge and ratio. It's the thinking part of public speaking, when your audience gets the feeling that you know a lot about a certain subject they will see you as an expert. Which will give you the upper hand and the attention of the people that are really interested in what you know about the subject you're talking about. That's why people ask the question: "Can you tell me something about yourself?" This particular question will give them insight in who you are from the best expert there is that can tell something about you, namely you.
Water
The category water contains the public speaking skills of emotion and feelings. An audience doesn't like a person they can't relate to. If you give the audience the real you they can show empathy which is a nice and kind of simple way to keep the audience's attention to you.
Air
Air is light and stand for light-hearted which is a great and one of the important public speaking skills. Keeping your audience amused is one of the best ways to keep their attention. If people are feeling tense they'll be more likely to try and make it light hearted themselves, so when someone in your audience tries to make a joke you know you're showing not enough of this public speaking skill.
Combining all of these elements makes your presentation/speech amusing, touching, full of knowledge and most of all real.
What an enjoyable training we followed at our languages institution last Friday. Herman gave a workshop public speaking for our team. It was fun, enjoyable, humorous, relaxed, inspiring and above all very instructive! That's exactly what our organisation stands for! Thanks Herman!
 Joëlle Harpin
Read more reviews..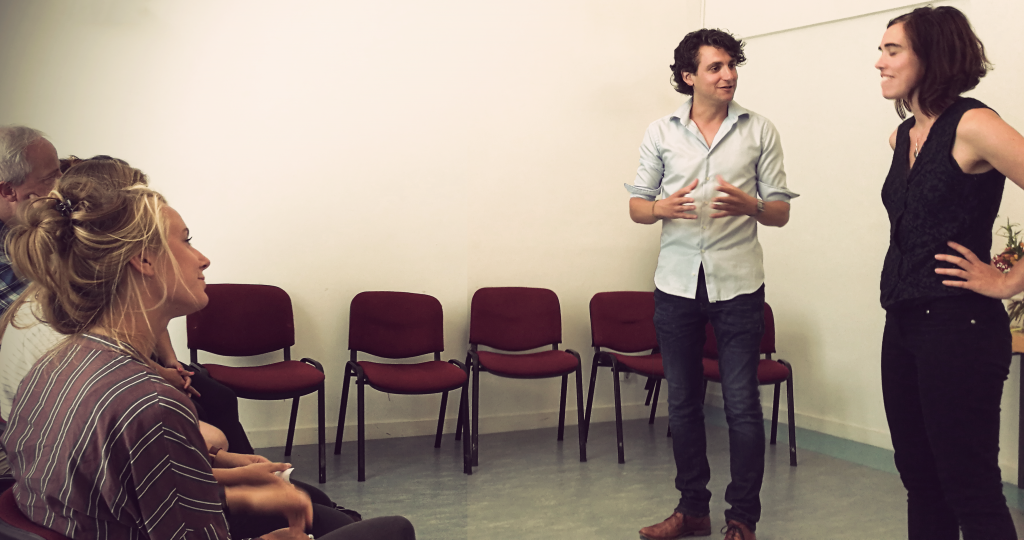 How to get these public speaking skills?
Developing and learning these public speaking skills isn't something you will be able to learn yourself,  because it all takes courage and people to practise. By joining the public speaking class of Herman Otten you have the people you can practise with and Herman will make sure you have the courage to go and stand in front of the group in order for you to practice your public speaking skills.
Who is Herman Otten?
The public speaking workshop is given by Herman Otten. Herman graduated as an actor at the Utrecht school of arts. After that Herman proceeded to direct and act on Dutch television. Now Herman is widely known for helping people from every walk of life to get over their public speaking anxiety. Currently Herman has even more than 10 years of experience under his belt as a coach and teacher. To date Herman teaches public speaking workshops all throughout the Netherlands and in NYC! Read more about Herman here.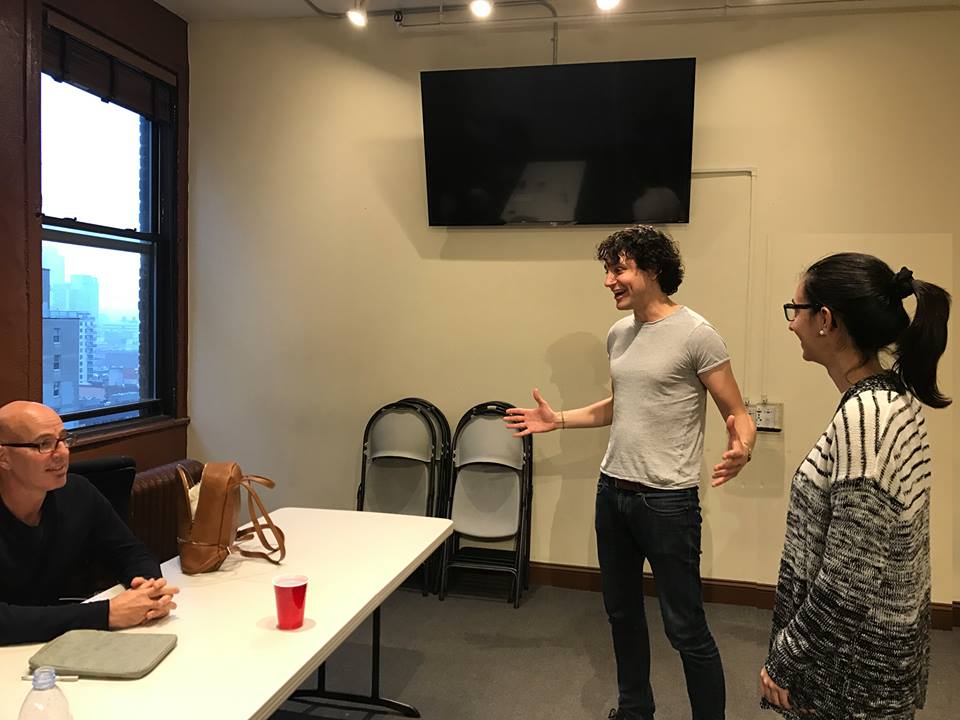 What does a day of a public speaking workshop in New York look like
The public speaking workshop takes 1 day from 11 AM until 6 PM. During the day we'll have two coffee breaks of 10 minutes and a longer break of one hour in which we can eat lunch together somewhere near the Magnet Theater Training Center.
Does everyone get the attention they need?
We will work in a small group with a maximum of 6 people, as a result will every person get the attention they need. This also ensures that everyone gets enough personal attention and gets rid of their public speaking anxiety.
Where do we meet?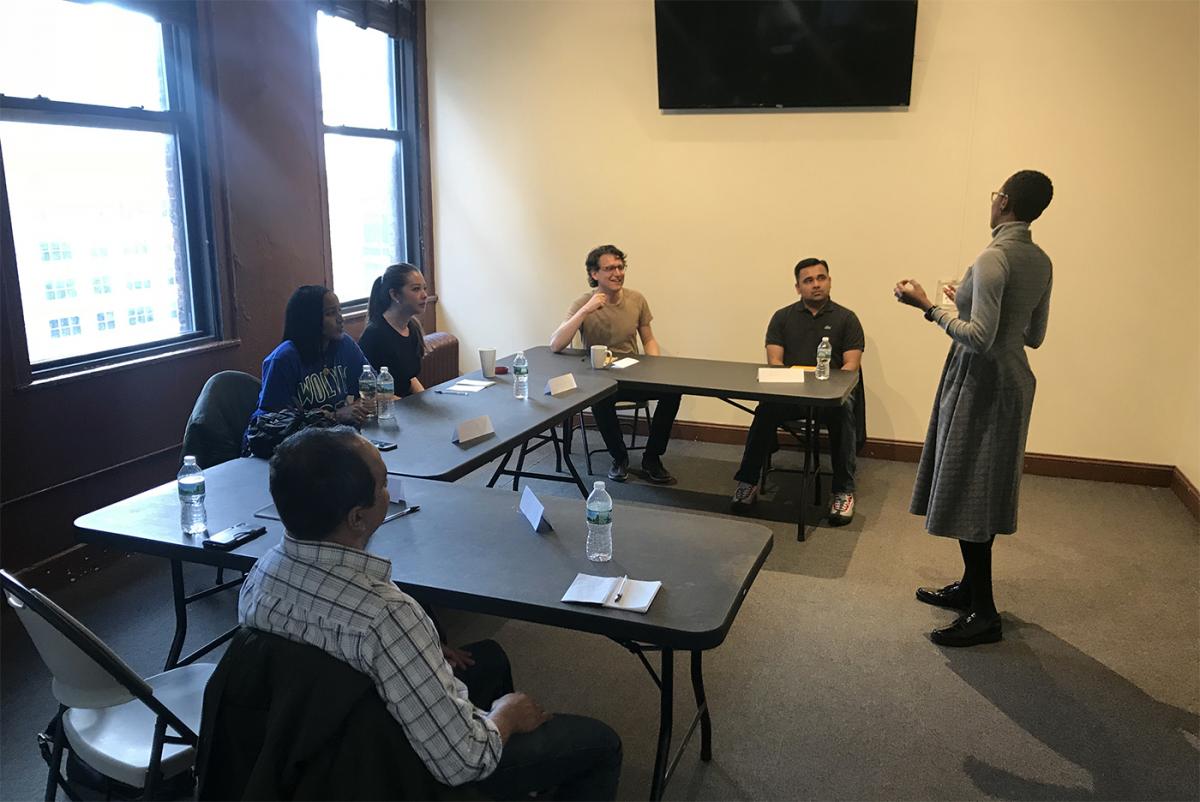 In the heart of Manhattan, New York City in the Magnet Theater and Training Center.
Address
Magnet Theater Training Center
22 West 32nd St, 10th floor
New York City, NY 10001
United States of America.
Investment
Your investment for the the Public Speaking Class is 297 USD. This includes a one day training, lunch, water and cookies.