"Herman is amazing! I definitely recommend his public speaking coaching to anyone who is struggling or who just wants to improve their public speaking. Added so much value to me personally. Thank you!"
Josh Ozturk
Read more reviews..
Learn the secrets of public speaking from the best reviewed speaking coach in NYC.
✔️ Practice in a safe environment
✔️ Small group (max 6 people)
✔️ Lunch included
✔️ Certificate of participation
✔️ After-class-email with tips and tricks
✔️ Over 350 positive reviews..
We also offer private coaching and corporate training.
And a follow-up to this class: the level 2 experience!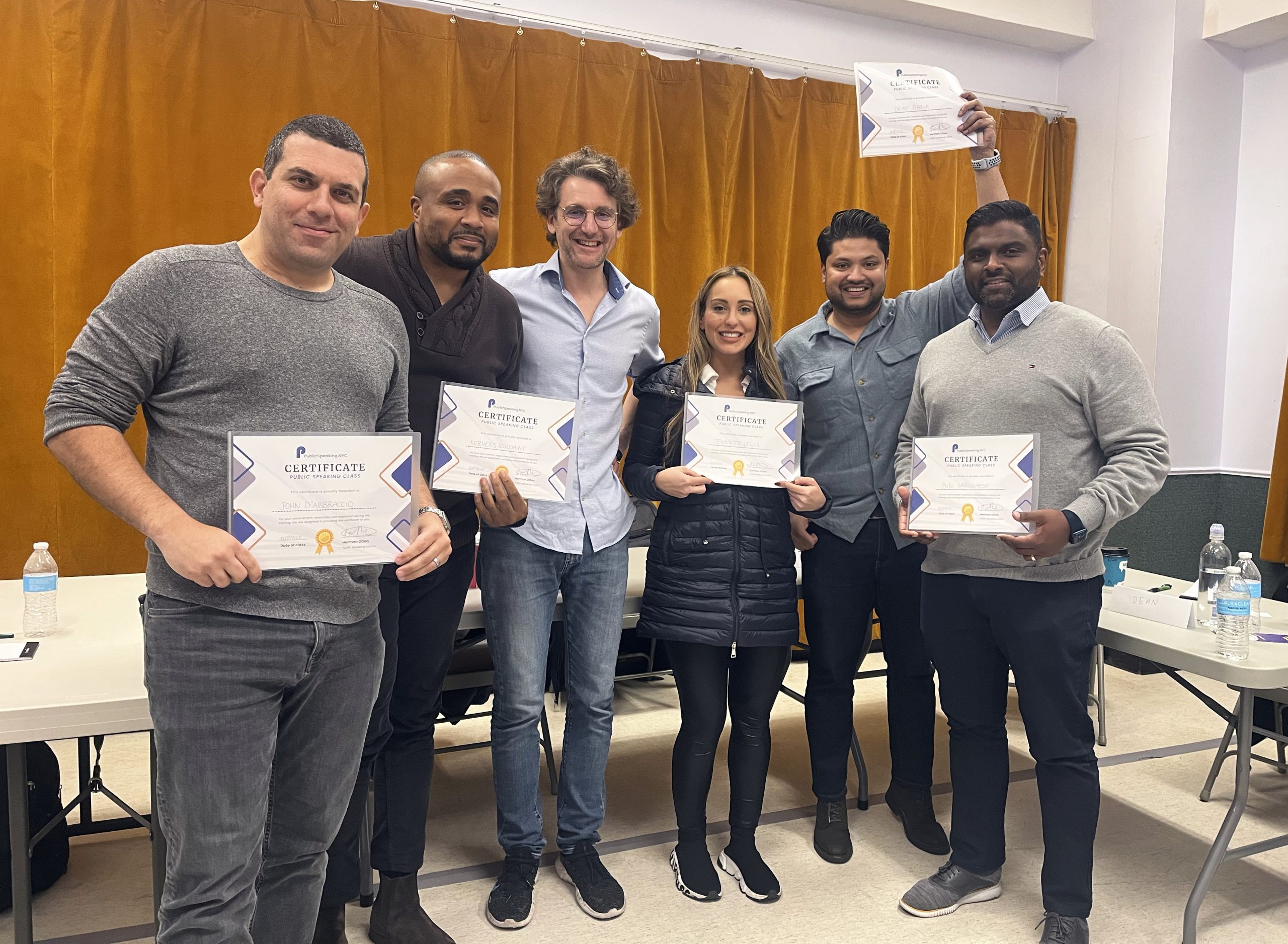 Herman's public speaking coaching
Public speaking is an essential skill that can benefit individuals in both their personal and professional lives. Whether it's giving a presentation at work, delivering a speech at a wedding, or simply participating in a meeting, being able to communicate effectively in front of a group is crucial. This is where Herman Otten's public speaking coaching class comes in.
Herman Otten is a highly experienced public speaking coach who has helped countless individuals improve their communication skills. His class is designed to give participants the tools and confidence they need to succeed in any public speaking situation.
One of the key benefits of Herman's class is that it is tailored to the individual needs of each participant. Herman creates a supportive and encouraging environment. He is known for his patient and understanding approach, which helps participants feel comfortable and confident as they learn. Whether you are an experienced speaker looking to fine-tune your skills or a beginner who is nervous about speaking in front of others, Herman's public speaking coaching has something to offer you.
Overcome fear with public speaking coaching
One of the primary reasons people benefit from public speaking coaching is that it helps them overcome their fear of public speaking. Many people have a fear of speaking in front of others, and this fear can hold them back in their personal and professional lives. Herman's public speaking coaching can help participants overcome this fear by teaching them techniques for managing their anxiety and building their confidence. In addition he teaches participants how to effectively structure and deliver a speech. He covers topics such as how to organize your thoughts and how to engage your audience. These skills are essential for anyone looking to give an effective presentation or speech.
Finally, public speaking coaching is an excellent investment in your personal and professional development. Being able to communicate effectively in front of others is a valuable skill that can help you succeed in any career. Whether you are looking to improve your public speaking skills for work, for school, or for personal reasons, Herman Otten's class is a great way to learn from an experienced and skilled coach.
Practical information
Time: full day from 11am to 6pm.
We have two 10 minutes coffee breaks and a 1 hour lunch break.
Location: In the heart of Manhattan at Ripley-Grier Studios, 520 8th Avenue
Lunch: We have a great lunch together at a nearby restaurant. Vegetarian and vegan options are available.
Price: 497 USD per person (a great lunch, water, cookies are included). Payment is possible via PayPal and credit card.
NOTE: WE DON'T DO REFUNDS OR RESCHEDULING! If you can't make it, you may give or sell your spot to someone else.
Let us know if you have any questions.
Or check out the frequently asked questions to find out if your answer is in there.